Is the Baofeng GT-5R, the radio we all wanted – right price, legal, and with increased quality?
Do you remember when the first Chinese radio Baofeng UV-5R, which started flooding the country? Do you remember your first Baofeng UV-5R, it has been much maligned and touted as a classical example of you get what you paid for amateur radio. Ironically just as many people who owned this radio also complained about it. They complained about spurious emissions it makes and the poor quality plastics and circuit boards found inside.
Well, there is a new Chinese radio out called the Baofeng GT-5R 5W Dual Band Radio, also known as the upgraded legal version of Baofeng UV-5R. Radioddity, the official seller of Baofeng radios in North America, has recently started selling these handhelds online.
Is the Baofeng GT-5R, the radio we all wanted? Right price, legal, and quality build?
Radioddity describes these radios as meeting FCC regulations and a legal meaning compliant version, unlike the Baofeng UV-5R. As an entry-level ham radio, it will only let you transmit on the ham bands. Which will prevent weird things going on with public service frequencies, from new and untrained hams. For the most part, Amateur radio clubs and their membership can manage themselves, but when people start getting on other people's radio systems, it becomes a real problem, for civic services to more major issues of life and death.
With compliant Spurious Emission at Antenna Terminal Spurious, this radio passes the FCC Equipment test (standard: FCC 47 CFR Part 2 and 90). Kindly check the test report from a third-party testing agency (download the report "Certificate of Compliance.pdf").
For this radio, its frequency is locked to the 70-centimetre or 440 MHz band is a portion of the UHF radio spectrum internationally allocated to amateur radio and amateur satellite use. The ITU amateur radio allocation is from 430 to 440 MHz; however, some countries, such as the United States, allocate hams 420 to 450 MHz. So the Baofeng GT-5R is built for the American market. But also it only goes from 144 to 148 megahertz on two metres, which again falls on the American 2-metre band.
With the old Baefeng, it had spurious emissions and front-end overload issues are front and center as never before seen in a handheld radio. The Baofeng GT-5R has cured that problem with a nice and clear signal. If all the Baofeng UV-5Rs were magically replaced with these Baofeng GT-5Rs, it would certainly address some of the biggest issues Amateur Radio operators have with these handheld radios.
Details from the Radioddity.com website: https://www.radioddity.com/products/baofeng-gt-5r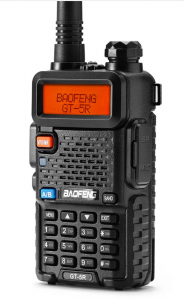 Better Choice for Entry Level] 100% legal version of UV-5R. GT-5R transmits both VHF and UHF, complies with FCC Equipment Rule, and would not obstruct other important public services. You can verify the frequency and enjoy a band talk at will, but never worry about goofing with authorities. Keep in mind that you NEED A LICENSE to broadcast. FCC ID: 2AJGM-UV5R.
[Easy Programming] Work out of the box. Support manually program via keyboard, or program via PC. Besides, downloading CHIRP to make life a bit easier for programming.
[Quite Functional] GT-5R extends all the functions from UV-5R: VOX / Dual Freq. / Dual Standby / SCAN /etc. A great emergency communication scanner HT. You can talk to friends and family over a large area (if you use repeaters it would be much larger and better).
[Wide Capability] Compatible with all accessories of UV-5R series, such as 3800mAh BL-5L battery and the latest BAOFENG 6 Way Charger for 5R Series. Easy to find backup parts on market or from your previous models.
[Friendly User Guide] We provide a detailed manual guide with GT-5R.What's more, you can find thousands of useful videos or articles on the Internet about how to use the 5R Series (respect to all OM who have contributed to these).
CLICK HERE to download the manual and CPS.
---